Khartoum city streets were mostly empty of people and traffic on Sunday, with both warring sides mounting roadblocks.
But long queues formed at bakeries and the few shops that remained open, as some people briefly ventured out to buy food before returning home to safety.
In the afternoon, there was a three-hour pause in hostilities to allow thousands of locked-down people to move and for the injured to get to hospital.
Among residents, there was shock – and also anger.
Unlike other parts of the country, such as the often turbulent western Darfur region, Khartoum is not used to war. This is the first time that people in the capital have seen such clashes.
Early on Sunday, Sudan's doctors' union said at least 17 civilians had been killed in the city, but after two days of fighting, the true number of victims is likely to be higher.
Khartoum resident Kholood Khair told the BBC that residents could not be sure of safety anywhere.
"All civilians have been urged to stay at home, but that has not kept everyone safe," she said.
"There are lots of people either being in their homes or being sort of in and around their homes, on the rooftops, in the gardens et cetera, that have been either hurt or killed by a stray bullet."
Those victims included an Indian national, Albert Augestine, who was working in Sudan and was hit by stray gunfire on Saturday, the Indian embassy said.
Heavy fighting and explosions continued to shake the city, including in areas held by the Rapid Support Forces (RSF), suggesting that their claim to control 90% of Khartoum had little to back it up.
Hamid Khalafallah, a researcher and policy analyst at the Tahrir Institute for Middle East Policy in Khartoum, told the BBC that the Sudanese military appeared to be bombing targets within the city.
"We woke up to sounds of very heavy gunfire and bombings, in some cases even louder than yesterday," he said, adding that jet fighters had been heard overhead.
"Basically, the Sudanese armed forces are trying to target locations where the Rapid Support Forces' militia are located."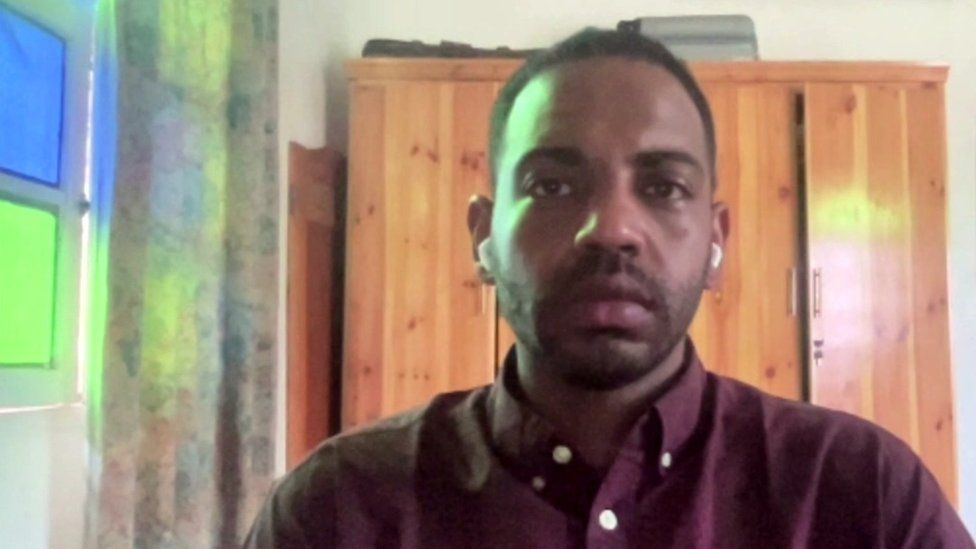 Ms Khair said the Sudanese military had told residents that they would be sweeping neighbourhoods for RSF forces, who she said had embedded themselves in densely populated areas.
She said she feared this could result in "indiscriminate killing".
Katharina von Schroeder from Save the Children had been trapped in a school in the capital Khartoum since the fighting started on Saturday morning.
"Every time we thought that it's calming down then suddenly there is another noise," she told the BBC. "The strongest explosions were this morning when we also saw some air force being deployed, or fighter jets, and we decided to go down to the basement for about an hour."
Fighting has been taking place across the country, from Darfur in the west, where three World Food Programme (WFP) staff were killed, to Port Sudan on the Red Sea coast in the east.
In Port Sudan, residents woke up to explosions, but later in the day said things seemed to have quietened down.
"I woke up to the sound of fighter jets hovering above my neighbourhood. Seeing the planes in the sky the RSF started targeting them with anti-aircraft missiles. The land was shaking, literally. Again my whole family gathered in one room. We were really scared," Othman Abu Bakr said.
But the sound of fighting later subsided and Mr Abu Bakr said he went outside and saw army soldiers celebrating in the streets.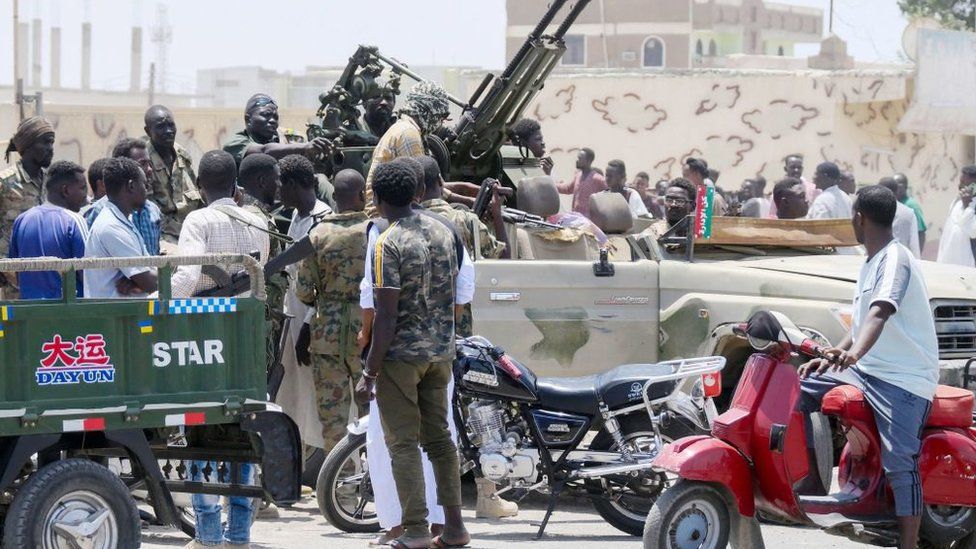 Hospitals in Khartoum have been struggling to cope with the rising numbers of casualties, complaining of a lack of doctors and infrastructure.
With next Friday marking the end of the holy month of Ramadan and the start of the Eid al-Fitr festival, the citizens of Khartoum are wondering whether they will have anything to celebrate.
Even before the violence broke out, there had been days of tension as members of the RSF were redeployed around the country, in a move that the army saw as a threat.
Those tensions disrupted the normal pattern of socialising during Ramadan, with people unable to follow their usual habits of celebrating and praying at the end of each day's long fast.
During the Eid festival, people usually move about a lot, visiting family members, neighbours and close friends, but all that is in doubt this year.
As they wait for an outcome, people's anger has focused on the two military men at the centre of the dispute – army chief Gen Abdel Fattah al-Burhan and RSF leader Gen Mohamed Hamdan Dagalo.
Their feud erupted over plans for a transition from military to civilian rule.
But right now, many Sudanese want peace and stability more than they crave democracy.