Seven people, including an unborn baby, have been killed in a shooting at a Jehovah's Witness meeting hall in the German city of Hamburg, police say.
They say the gunman acted alone in Thursday's attack, and later took his own life. His motives are unknown.
The suspect, named only as Philipp F, is said to have had "ill feelings" towards the religious community, of which he had previously been a member.
Video has emerged appearing to show him firing through a window of the hall.
At a briefing on Friday, the police said four men and two women were shot dead. All the dead were German nationals.
Eight people were injured, four seriously. A Ugandan and a Ukrainian were among those hurt.
A woman who was seven months pregnant was shot – killing her unborn baby. The mother survived.
The first emergency call came at 21:04 local time (20:04 GMT) on Thursday, to report that shots had been fired in the building on Deelböge street, Gross Borstel district, the police said.
Officers were on site four minutes later, and they were almost immediately joined by special forces. The officers had to break windows to enter the building where about 50 people had gathered.
The suspect – described as 35-year-old "sports shooter" who had a gun licence – had fled to the first floor. His "lifeless body" was found shortly afterwards.
He had managed to shoot nine magazines of ammunition, and 20 more were found in his backpack.
German Senator Andy Grote said "fast and decisive actions" by police officers had saved many lives. He also described the attack as the "worst crime" in Hamburg's recent history.
Police confirmed that they had previously received an anonymous tip-off that raised concerns about the perpetrator's mental health. Officers had visited him after the tip-off – but did not have enough grounds to take away his gun at the time.
Gregor Miesbach, who filmed the gunman shooting through a first-floor window, told the Bild newspaper: "I didn't realise what was happening. I was filming with my phone, and only realised through the zoom that someone was shooting at Jehovah's Witnesses.
"I heard loud gunshots… I saw a man with a firearm shooting through a window and filmed it," he said.
Lara Bauch, a 23-year-old student who lives nearby, told the DPA news agency that "there were about four bursts of gunfire – several shots were fired in each burst – with gaps lasting roughly 20 seconds to a minute".
She said that from her window she could see a person frantically running from the ground floor to the first floor. "The man was wearing dark clothing and moving fast," she added.
An alert was sent on the federal warning app, NINAwarn, on Thursday evening telling locals that "one or more unknown perpetrators shot at people in a church".
Local residents were told not to leave their homes amid the ongoing police operation.
Footage showed police escorting people out of the meeting hall, some to ambulances.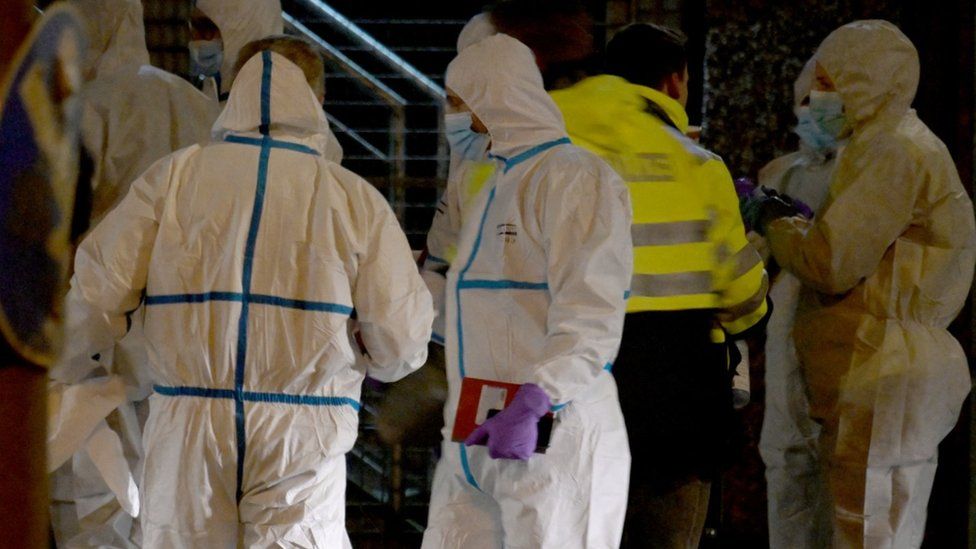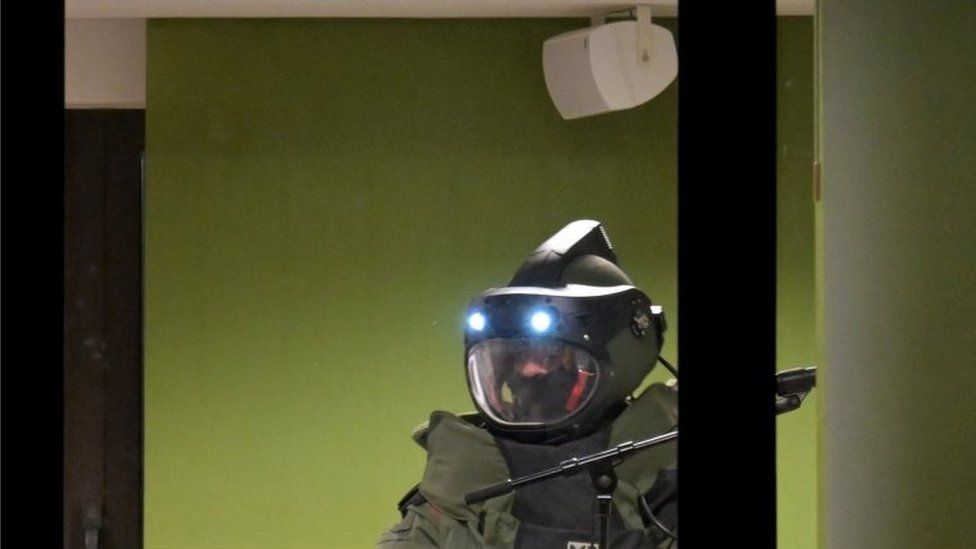 The reasons behind the shooting were "still completely unclear".
German Chancellor Olaf Scholz described it as a "brutal act of violence", saying his thoughts were with the victims and their relatives.
In a statement, the Jehovah's Witness community in Germany said it was "deeply saddened by the horrific attack on its members at the Kingdom Hall in Hamburg after a religious service".
Forensic experts in white suits worked through the night inside the brightly lit interior of the meeting house.
Jehovah's Witnesses are members of a Christian-based religious movement, founded in the US at the end of the 19th Century.
In its latest report from 2022, the movement says there are about 8.7 million Jehovah's Witnesses worldwide, including about 170,000 in Germany.
In the city of Hamburg, there are believed to be nearly 4,000 members of the organisation.
Jehovah's Witnesses are probably best known for their door-to-door evangelical work; witnessing from house to house and offering Bible literature.
Although Christian-based, the group believes that the traditional Christian Churches have deviated from the true teachings of the Bible, and do not work in full harmony with God.
Germany has some of the strictest gun laws in Europe, including a clause that anyone aged under 25 must pass a psychological evaluation before getting a gun licence.
In 2021, there were around one million private gun owners in Germany, according to the National Firearms Registry. They account for 5.7 million legal firearms and firearm parts, most of them owned by hunters.
After mass arrests were made last December in relation to a suspected plot to overthrow the government, the German authorities are planning to tighten the country's gun laws even further.